Every so often, if the planets are aligned, relisting a property exactly the same way
will work the 2nd time.  External changes like inventory levels, interest rates, even a different season could do the trick without sellers changing a thing.
It's not unheard of, but waiting and hoping is a lousy strategy. If you want to get a property sold and move on with your life, its price and condition that need to align!
The Refreshed Home believes sellers need to participate in their success. If a property didn't sell the first time, it's incumbent for sellers to ask themselves what are they going to change, what'll be different when its relisted.
Price Adjustments
If you're relisting, adjustments in listing price, and expectations about selling price is a good first conversation with your agent. Specific numbers are always between you and your agent. But I urge reticent sellers to think of a listing price as a strategy, an invitation to start a conversation. It's not a committment to sell at that price. ANd who knows-price it right, you might do better than you thought because more will come out to see it.
And this may be hard to hear, but no matter what you think, what the comps say, or the neighbors did last year-it all comes down to what the people that hold the checkbook- the buyers- think, and do!!
Condition Changes
Updating your property is always a good idea in conjunction with a price adjustment; but really a must if you're relisting, and not big on the latter. Together with my awesome marketing and branding guru, I created this infographic to explain prioritizing these tasks.  (Click to enlarge)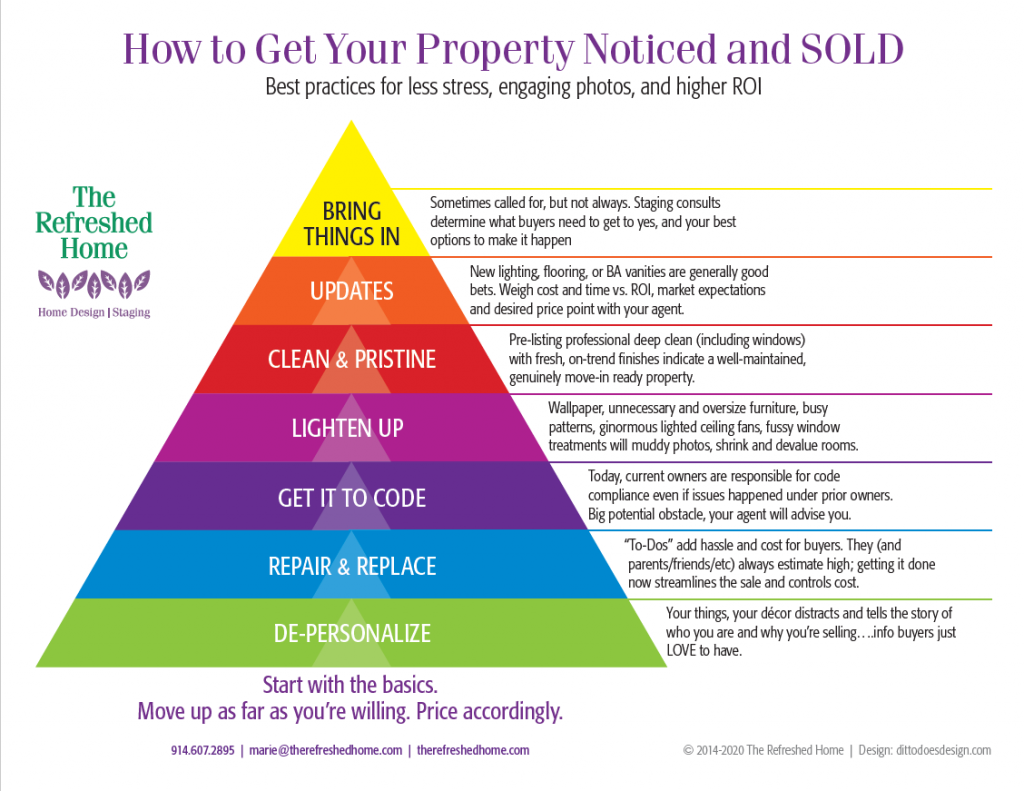 When prepping your house for sale, know that clean, pristine, and move-in ready have been gold, real buyer-nip for some time. Pandemic living has only made buyers more sensitive to these things.
Now would be the time to revisit and perform any needed maintenance, as pandemic living has also created a huge demand for (and delay in scheduling) home trades and services. My counsel to sellers is a buyer who can put their head on the pillow the first night in is a happy and motivated buyer.
If you're updating, new listing photos are a must. Look over the first ones with a clearer eye first.  Biggest listing photo mistakes are often too much stuff and bad lighting; but IMO an empty, naked space is a close second. Be sure exteriors are seasonally correct. Don't show tulips blooming if new listing going live in August.
The Refreshed Home's top three go-to styling tips for selling your home:
ALWAYS stage the bathrooms and kitchen: It doesn't take much but makes a world of difference
Lamps instead of overhead light fixtures. Place in corners, drawing eyes to see space (not stuff)
Fewer but bigger and more important props elevate a space. They add contrast, life, and energy in the right proportion. Think big art, architecturally interesting tall plant, uber-bright pillows.
Staging your house to sell is what The Refreshed Home does. We're an independent entity with a thoughtful, practical and user-friendly approach. Relisting in your future? Talk to us first about how to get your house Noticed, and SOLD!