Walls are the largest surface area in any room, so empty bookcases are huge missed opportunities to engage viewers online, and in-person!
Bookcases that are "done" add depth, interest and personality to a room.  They call attention to the scale of the room. Also, soften and create a visual focus in sweeping listing photos of an otherwise empty room.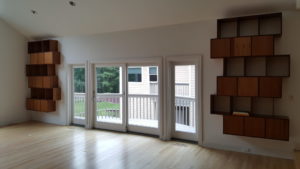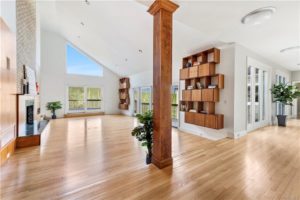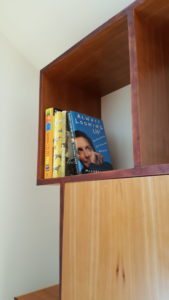 And when done well, they pique viewers' curiosity.
Many will linger in the room. This is a very good thing. Sometimes they'll study the overall makeup, others hoping to get a clue as to who the buyer is or why they're selling.
Equal parts tschokes, books and empty space, I create bookcases that speak to the buyers. Have built up a good inventory of  accessories and good books from library book sales over the years.
I carefully consider what books I put together, but have some fun, too! 
Photo at left is about 10′ up, in the upper upper left cube on bookcase in back of the room. I placed Michael J. Fox's bio "Looking Up" there. (Well, it cracked me up!)
Bookcase below was in an office overlooking a lake, and bordering a conservancy. Many of the books used had local roots: history and geography, people and events. Also nature, wildlife and photography.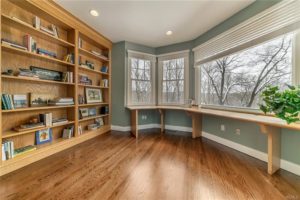 Memorable listing photos viewed online give buyers something to seek out during in person showings.
This is the walk-out family room on the 4th level of a 5 level house.  The main, expected rooms were vacant. I created this room here precisely to draw buyers through the entire house, and make sure they didn't miss this-or the 5th levels.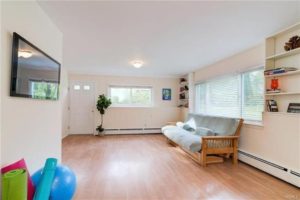 To be visually interesting you mix up the shape and angles of the books and the props.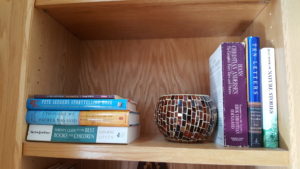 OR you can just create pockets of happy.