If you've ever had to show, or were shown an outdated or over-personalized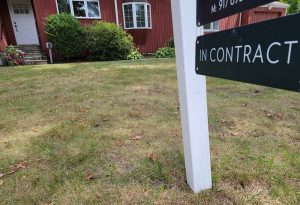 property you wished for this.
If you've ever listed, or tried to sell a property that was quirky, or otherwise unexpected you wanted this.
You didn't know if it even existed, or what it'd be called. Was it weird? Did anyone actually do this?  Would it really make a difference?
The "it" are buyer consults. And yes they exist. No, not weird. YES, I do them, and fairly often. And judging on the referrals I get for them-especially in this current shift-yes, they do make a difference.
In short, it's by the hour, no-strings-attached design/remodeling ideas and advice for home buyers.
Buyers start to make their own best decisions when they have a vision. Buyer consults help them see past a property's current state to what it could be, both aesthetically, and organizationally.
Usually recommended by buyer's agent
The agent knows this property checks all the boxes for their client. Their client is fully vetted, and none of the stoppers have anything to do with location, infrastructure, timing, or any other conditions of a sale.
Typically singular meetings
Not as detailed or as decision oriented as design consults. Most questions hoover between how to work with fixed elements, or ideas for updates.
Quick answers, independent and unbiased input
TRH is a fiduciary, and an advocate. These meetings are about information and ideas. Not a sales pitch, not there to double team a buyer into choosing that property.
There are two scenarios: buyers who really like a house, but somehow can't get to yes, and buyers who've said yes and signed, but are now wrestling with more specific issues. 
Not surprisingly, the backlash over open floor plans, (well-done or not) fuels the top requested service for both: space planning. This is laying out the space to fit your needs. Below are back-to-back buyer consults I did recently. Both open floor plans, and ironically, both with a fireplace right in the middle of the main space.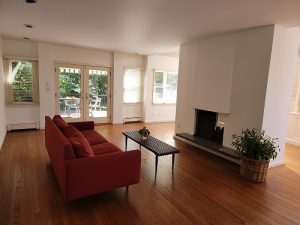 Above, would-be buyer was seeking advice on what updates would be needed to accommodate their young growing family.
Here, TV was to be in this space because auxiliary rooms were needed for both parents worked from home. And no TV over fireplace.  Suggested: build interior wall to left of fireplace to support TV while sealing off back area as an office. Make top transom windows to take advantage of east/west exposure light, and skylights in space on other side of fireplace. 
Below, this buyer was in contract. All their furniture could fit anywhere in this new space. The biggest takeaways? With no basement and only BRs upstairs, start with where the TV goes. Once furniture placement is resolved, plan to hire an electrician to drop in floor outlets via the crawlspace for more/direct lighting. Also  which way to run the new pool and what color to paint the front door.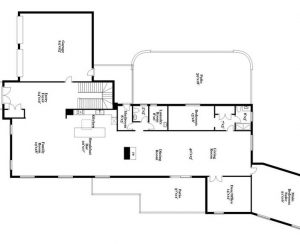 Typical clients/situations for buyer consults:  
Down-sizers planning what to bring from the house.
Lateral movers who want to know how to adapt changed needs (and usually their furniture) to a different style or configuration of space.
Besides overall placement, budget and logistics are more on the mind of upsizers (and their parents)
Flippers and 203K loan candidates **seeking advice on aesthetics or logistics**
Color/finish selections to go with existing cabinetry, tile or flooring
Property is underwhelming, a dull box. Buyer doesn't see the value or how it could be turned around
Consultancies add perspective. They also identify and solve problems. Interested or curious? Talk to me today, let's see if I can help!