One question I get from both design and staging clients is about re-upholstery. A favorite piece has seen better days.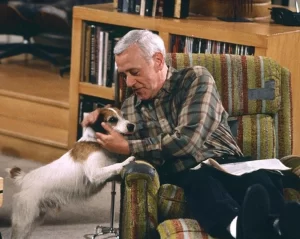 The fabric is outdated or worn, or it's just been sat in a lot over many years. "Is it better to reupholster, or buy new?"
TRH's work isn't just about aesthetics. Good design work finds ways to align clients' expectations, needs, and dollars in a way that will make them happy. So I ask them to define 'better'.
There are a lot of good reasons to re-upholster:
Like Marty Crane, it's more than just a chair.
The piece really fits you, works in the room: Its size, look, comfort-whatever.
You want a custom look with quicker turnaround time
Its a greener choice*
There are almost as many good reasons not to re-upholster:
Guilt
You-or someone else paid a lot of money for it years ago. Someone else who doesn't like it anymore, can't fit it in their space, insists you take it. NO NO NO. Never decorate around guilt. Never spend your money or your mojo on things that don't make you happy.
Cost
While it ultimately depends on the cost of fabric you choose, reupholstering will generally not save you money. The labor cost alone for an individual to pick up,  break down, rebuild, and deliver a like-new piece can easily be the same as a newly manufactured piece.
Guaranteed to be more if it's over-sized, or has time-consuming details like repairing a frame. And keep adding if there are details to replicate like loose-back pillows, skirts, curves, welting, nailhead trim, tufting, or multiple fabrics.
"Green"
Can't be a blanket statement. It depends on what you choose.  Cushion inserts in soy or recycled materials def more eco-friendly than petroleum-based urethene. Off-gassing on older frames is a non-issue vs. the VOCs that will leach into the air from new pieces.  ALTHOUGH you could let new furniture off-gas in the garage or on a protected porch….  Organic or recycled fibers made domestically have a reduced carbon footprint from say silk damask from Italy.
If piece is structurally sound and physically comfortable, and not too 'shapely-greenest of all might be a slipcover.  Wipe any memory of bulky, flowered throws away; there are AMAZING, reasonably priced slipcovers out there!  Stretchy,  solid-color fabrics that are elasticized, many with interior foot pockets to aid in installing, and maintaining a nice, smooth look.
SIDEBAR: Here in Westchester County we have an unbelievable state-of-the-art Materials Recovery Program.The Yonkers facility (across I-87 from Stew Leonard's) has just gone through a major upgrade. If green (or greener) is your thing, click link for more info on resources, or to sign up for their highly recommended tour. I was there about a month before COVID hit, it was as sobering as it was educational.
Reupholster, or buy new? If you've read this far, you know the right answer for you.