Selling? When and Why to Consider Staging with Rental Furniture
As a stager, the use of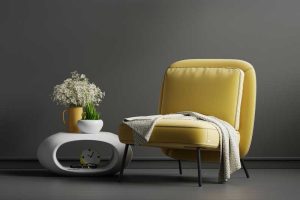 rental furniture comes up a lot. Many assume they're the same thing.  But I suggest we think of staging using only rental furniture as the 1.0 version, and a good option sometimes as part of the 2.0 version.  
The 2.0 version takes a broader view. It's expected the end product is a terrific aesthetic. But done well, it looks to solve problems, and anticipate/remove any speed bumps for buyers.  Interactive and collaborative, it also smooths the process for sellers. 
It considers many options. Its core looks to make the best of all spaces. Making maximum use of seller resources and abilities is part of it.
2.0 also educates and empowers.  It helps sellers identify and prioritize doable tasks that will pay off.  Their peace of mind comes from crafting their own answer to "what will you do to get what you want?"
Bettering occupied/furnished spaces, updating and warming the vacant ones is what  TRH does best.  But what we do the very best of all is advocate for sellers and their agents.
I stopped staging with rental furniture a few years ago, but happily acknowledge there are times it's a solid, good ROI decision.  Because staging=rental furniture is so ingrained in the industry and consumers alike, this is a bit longer than most posts.  The other side follows, but  here are some whens and whys I've the use of rental furniture helpful:
 Large Space
 Over-size, empty rooms throw buyers, especially if it's a main space.   They question where things go, even if they need that amount of space.  Purpose and function equals value to buyers. I've used rental furniture/props to create different areas within one set of 4 walls. Also to draw eyes all around the room, and a space's special features.
This large family area below was off the kitchen. Rental furniture showcased the elevated eating area in front of the windows, as well as the abundant natural light. Here I used generously scaled upholstery and brought in bright accents and oversized art from TRH's warehouse to fill, warm, and balance the room.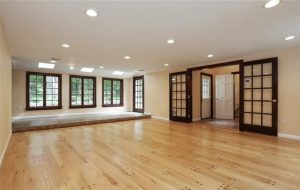 49 Overlook Family Room Before, and After
Large Property
Large houses with empty spaces, blank areas of transition seem unnecessary, a waste. After staging the basic/expected rooms with rental furniture, I've used rental furniture/props to add value by creating specialty spaces in other, less expected spaces:
A small work area or reading nook
A professional,  au pair, or in-law suite
A music room or library; a craft room, or workout space
This doesn't take much to do, and the strategy does 3 things:  Memorable photos of these niche spaces touch on buyers' dreams. The photos stand out. They're markers, creating spaces agents and buyers will remember, and seek out.
Unusual Space/Unexpected Floor Plan
The median build age in Westchester County is somewhere in the mid-1960s. That's LOTS of styles.  All sorts of improved/extended properties, not always done as might be expected. Cool and funky spaces have a special place in my heart, but can be real trouble for showing agents and buyers. 
Unusual spaces or unexpected flow are stumpers, as are open floor plans. I here I used rental furniture to show expected functions and placement to normalize these spaces

Again, in unusual spaces, buyers or agents sometimes can't find all the rooms, or even remember if they saw them all!  As above, rental furniture/cool props create listing photos that show distinctive looks and create visual markers for buyers and agents, making sure they persevere, find, and remember all the rooms. 
Vanilla Box
We can't not see color and light. I'll cop to the poor grammar but the science is proven: If you want people to really see the space, bond with the space, you need to give them-and the camera!– something to look at, head towards, and linger over.

Empty rooms with all the same one-size-fits-all-gray (white, or whatever) wall color is easier for sellers and painters to implement but read as boring and confusing to buyers.  Without anything to tell the rooms apart, is it 3 photos of 1 room, or 1 photo of 3 different rooms? They blur together.
Here I used rental furniture and again brought in TRH's props to add interest, depth and context. The goal was to draw buyers into the space-both in the photos, and in person.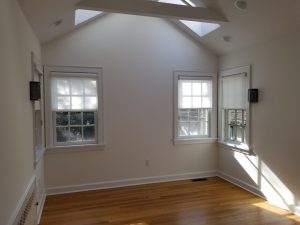 1061 Washington TV Room Before and After

Smaller or Choppy Space
Most folks are not spatially confident. And those who can visualize things tend not to trust themselves when it comes to the very big business of buying real estate. In other words, they go with what they see. 
Photos above and below are of the same home, a modest 1920's tudor; arch at right in photo below leads to TV room shown above. Sofa was one of a few pieces left behind, but as the only thing in this room it broke up an already choppy space. 
Choppy spaces make actual square footage feel smaller. Doorways, closets, windows, fireplaces, and built-ins all disrupt the flow of energy in a space. Thoughtful use of color, strategic placement of art, lighting, and other props fill in room, balance furniture. It also draws eyes in, and through the room, adding unity to smaller or choppy spaces.

Generally "cute" does not add value or put money in your pocket.  Even in kids' rooms it's a diminutive, lessening perceived value. Add value with bright color as punctuation (art, lighting, and pillows) against some simple, well-chosen basic pieces.  The right scale is critical. Choose pieces with simple details that are tailored and precise, in polished neutral colors for maximum ROI.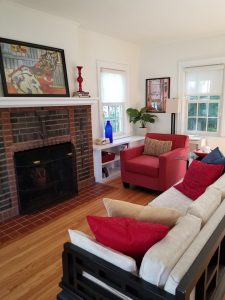 Probably didn't expect such detail about why it might be a good idea for you to do something I can't help you with. But without being all prissy-pants about it, advocating for sellers and their agents is what we are the very best at. Click here to read the other side, some whens and whys rental furniture is probably not needed.