As a stager, the use of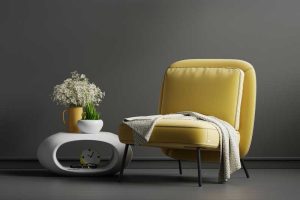 staging with rental furniture comes up a lot. Many, in fact see the two as one. 
Bettering occupied/furnished spaces, updating and warming the vacant ones are what we do best. But what we do the very best of all is advocate for sellers. So even though TRH hasn't worked with rental furniture for a few years, happy to acknowledge there are times when it's the right path. 
 To help any sellers or agents at this crossroads, a little warm-up first: 
Home staging is a process that improves the market position of a property,  rental furniture is just one solution. Using the terms interchangeably generates confusion and angst.  Worst-for those that can't or won't go there, it puts a hard stop on any conversation about how to put the property's best foot forward. 
Here are some scenarios where the use of rental furniture is a solid decision that can deliver good ROI.
 Large Space, or Large Property
 A large, empty room will throw many buyers. 'How to use the space? Where does the furniture go?' They might even question if they need this much space. Demonstrate value by using rental furniture to create different spaces with different functions within those 4 walls. It also helps buyers to get a handle on overall placement and the right scale of pieces. 

Large houses have a lot of rooms and many spaces of transition. Empty spaces can be seen as unnecessary, a waste. After doing the basic/expected rooms, I'd use rental furniture and props to create specialty rooms in other, less expected spaces: A small work area or reading nook; a professional, au pair or in-law suite, a music room or library; a craft room, or workout space. These rooms will touch on buyers' dreams, but they're also are markers: memorable pictures make sure agents and buyers will seek out all the rooms of a large house!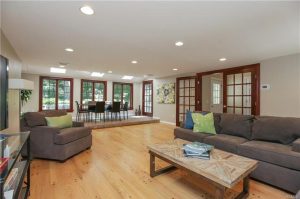 Unusual Space/Unexpected Floor Plan
The median build age in Westchester County is somewhere in the mid-1960s. That's LOTS of styles, all sorts of improved/extended properties, not always done as might be expected.

Oversize, oddly shaped properties, spaces with unexpected flow are stumpers, as are open floor plans. Rental furniture showing expected functions and placement helps normalize these spaces

In unusual floor plans, buyers or agents sometimes can't find all the rooms, or even remember if they saw them all! Listing photos showing distinctive looks* create markers in the minds of buyers and agents, often inspiring them to persevere, find, and remember all the rooms. Using rental furniture is one way*  to do this.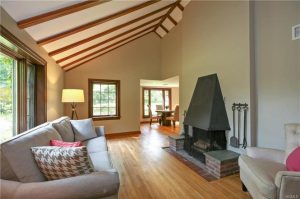 Vanilla Box
We can't not see color and light. I'll cop to the poor grammar but the science is proven: If you want people to see the space, bond with the space, you need to give them-and the camera!– something to look at, and to linger over.

Empty rooms with all the same one-size-fits-all-gray (or white) wall colors are easier to implement but are both boring and confusing for buyers.  Without anything to tell the rooms apart, is it 3 photos of 1 room, or 1 photo of 3 different rooms? They blur together.

Rental furniture is one way* to differentiate, add depth, life, and interest to underwhelming spaces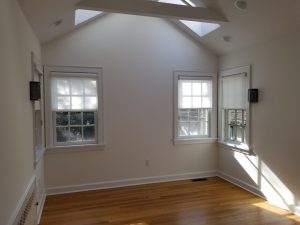 1061 Washington TV Room Before and After

Smaller or Choppy Space
Most folks are not spatially confident. And those who can visualize things tend not to trust themselves when it comes to the very big business of buying real estate.

 "Cute", even in kids' rooms is diminutive, lessening perceived value. Add value with bright color as punctuation (art, lighting, and pillows) against some simple, well-chosen basic pieces.  The right scale is critical. Choose pieces with simple details that are tailored and precise, in polished neutral colors for maximum ROI.

Choppy spaces make actual square footage feel smaller. Doorways, closets, windows, fireplaces, and built-ins all disrupt the flow of energy in a space. Thoughtful placement of art, lighting, and other props, * with perhaps a small furniture piece expand, and bring balance and unity to smaller or choppy spaces.