What We Do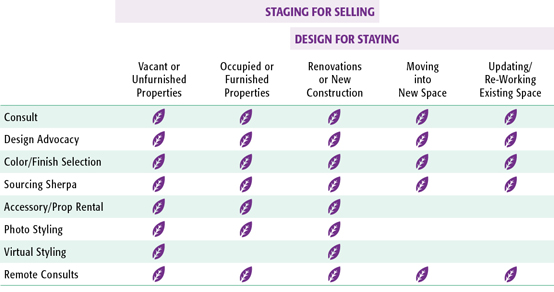 Consult: Whole property evaluation, includes remedial and aesthetic recommendations. Together we determine the scope of the job; pinpointing where time, budget, and needs intersect with strategy, priorities and expectations. It can include any services listed below, clients can run with it all if they choose. Impartial and specific advice for legal circumstances. Ideal for long-term planning, whether selling or staying/updating.
Design Advocacy: Design/Staging service by the hour, as the client chooses. Great for those who only need a little help and want to choose well. Re-working or moving? We figure out what goes where, and what just goes. Also ideal for pros with crew/resources.
Color and Finish Selection: All-new, or partial updates: Coordinating paint, stain, textiles, fixtures, grout, wood, stone and tile.
Sourcing Sherpa: Purchasing product can be a surprisingly good option for home sellers. But for design or staging clients, it's time-saving, smart shopping at its best. You'll get a list and run with it…we can shop together, or I do it for you; in the field, or online. Any trade pricing goes directly to the client.
Accessory/Prop Rental: Decorative props brought in to complete, add warmth in photos and for showings.
Photo Prep/Styling: No remedial work. We re-work first and bring in what's needed, usually 48-72 hours before photos.
Virtual Styling: Using your hi-res professional listing photos I work with tech folks to create unique and engaging online impressions. Quick, reasonable and hassle-free. Perfect for empty, and unusual/niche properties.
Remote Consults: Evaluations via PC or android tech: old listing photos, tablets, Skype, WhatsApp, etc. Ideal for the distant, the time-challenged, the hesitant, or genuinely handy.