When pigs fly. A cold day in hell. Don't hold your breath. Etc. You've heard them all, idioms relating to highly improbable events. Well, pigs are flying past snowballs in hell while holding their breath today: all the major paint companies have declared their 2022 COTY (Color of the Year) to be of the same lineage.
While I believe and respect the science and art of color forecasting, I've protested a number of picks over the years. 2020's Naval was a long time coming, ditto 2018's Caliente. But so many choices seemed so gimmicky. Colors were either non-descript (OC-117 Simply White, really???) or all over the road.
Some just wackadoodle, paint colors most people would realize they couldn't live with before the first coat was dry. 2015's Marsala, or 2012's Tangerine Tango come to mind immediately. INTERESTINGLY both Pantone's call. 
But low and behold, there is unity!! And it's strangely off-putting. Guess I hadn't realized how much fun it was to jump into the fray and opine away. 
Behr led the pack back in August, declaring Breezwway (L) its pick for 2022 back in August.  Hot on Behr's heels, PPG's Glidden Paints (R) followed with Olive Sprig.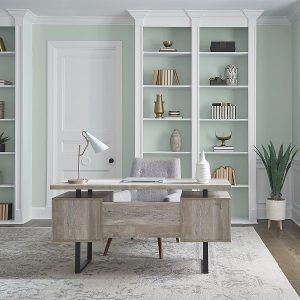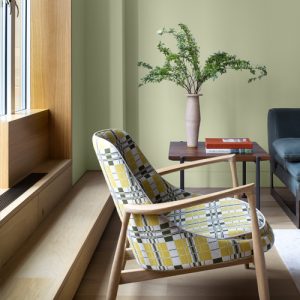 A few weeks ago Sherwin Williams announced Evergreen Fog (L)was their 2022 COTY pick. And today, Ben Moore finally declared: their 2022 COTY was (R) October Mist. 
All saturated, mutable shades of silvery blue-green. To soothe and comfort, Sherwin-Williams penned it best, 'Next year looks a lot more relaxing'. What's not to like??
At this writing California Paints and Pantone are undeclared, but props to Pantone for this snappy, entertaining and historic piece reminding us who our color trend daddy is.
When they announce, is it too much to hope for that maybe they'll throw the design community a few crumbs, you know, so we don't lose our edge? Maybe the oddly peach-toned Macaroni and Cheese? A screechy Unmellow Yellow or insipid Fuzzy Wuzzy Brown?  SIGH …a girl can dream….