Residential PropertiesBuilders, Flippers and Landlords
Benefits multiply when investors focus on their buyer, and bring the property to the best it can be.
Unoccupied or underwhelming spaces do little to drive traffic. They invite low-ball offers and devour equity; money and opportunity lost. 
This developer was moving forward on the last phase of his project.
One unit from the previous phase had been rented during the downturn; now it needed fresh finishes, and furnishings to show as a model reflective of the new construction.
Painting cabinets (OC-17, satin finish) updated and softened the room, brightened and expanded the space.
Existing granite and appliances had more presence, adding contrast and pop to the listing photos.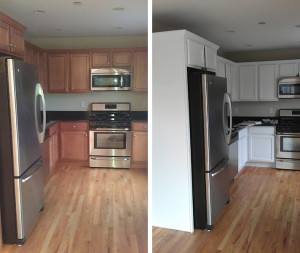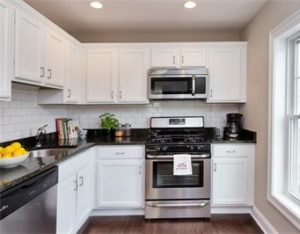 Color with character photographs well and adds stature when seen in person.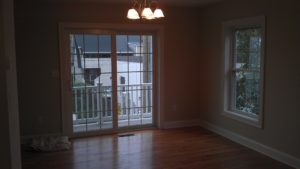 Deeper wood tones read more richly, and convey more value.
We reset this model using English Chestnut over the previous Golden Oak finish on floors and woodwork.
Classic and crisp, the contrast really highlighted the quality trim work.
For walls we wanted fresh and curre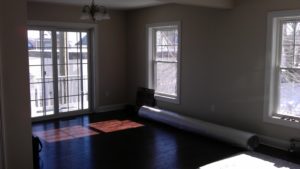 nt: not off the charts, but not snooze-city either.
Benjamin Moore # 984 Stone Hearth is my new favorite neutral.  Warm and polished, it elevated the space wonderfully/
Last, window treatments! 
Not to be confused with the dreaded "draperies", stationary panels were a quick and inexpensive way add interest and value to listing photos.  This project had additional needs: construction of adjacent new units made for temporary, but not-terrific views.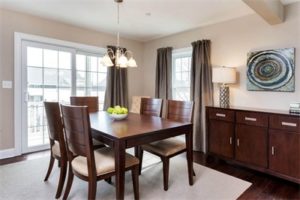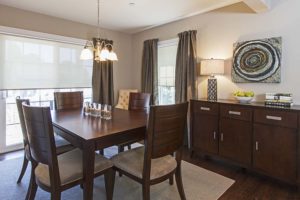 Panels framing the window balanced furniture while adding height and drama (aka value) in photos/
Adjustable translucent shades were neat, taming the light and the views, adding both polish and privacy.
An unexpected update, they elevated this development in an increasingly competitive market.