4 Tips, 4 Stories: How the Stager Cleared Away
Learning is good.  But learning that you feel in your cells, learning that leads to a true epiphany is a beautiful thing.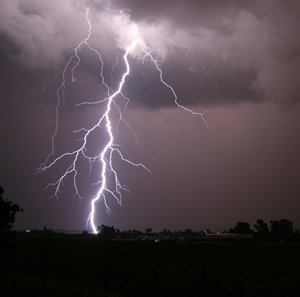 That was my experience sitting in on a recent series of group sessions facilitated by friend and colleague Jocelyn Kenner.
Like most in the people-home-stuff business, helping others make better sense of their space and their things is an evolution. A passion, and a calling.  Professional Organizer followed Jocelyn's already full career as an educator and entrepreneur. See Your Way Clear was launched in 2007; becoming a Certified Life Coach expanded her circle, and begat these groups.
Thru TRH I've helped thousands of homeowners have a better relationship with their space and their things. But I like to learn things, so it was with great AHEM curiosity I sat in on one group's journey.
Framed by the Swedish Death Cleaning mindset,  We 6 participants shared our struggles with stuff, space, and life; and each session ended with the suggestion of a gentle assignment.
Hearing others' truths not only bettered my professional skills, it helped me see how to get things done in my own life. Here are 4 of my takeaways:
Embrace the emotion. Staging and de-cluttering are cold and logical words. Often said-or heard!-with a just-suck-it-up-and-do-it tone. Not helpful. This I knew. For clients. Why did I think I would be immune? For agents and loved ones dealing with the average reluctant downsizer:  a safe space, gentler verbiage (listing prep, editing down, and lightening up are some of my favorites), and being an empathetic listener all work wonders.
Start small. Pick a non-emotional category, a surface, or a specific space-something you can complete in whatever time slot you have at that moment.
Lay it all out in one place. You may be shocked or embarrassed, but it helps your logical brain kick in and make good choices.
See it through to completion.  Get everything out of the home (or at least out of sight, like in the car) at the end of it. Over-shooting leads to partial piles by the door so 'it's one trip'.  There's no sense of completion or relief- and it's easy to backslide.
In the hope this will help someone else move forward in their path, here are 4 of my stories:
Tank tops and camisoles
Definitely not emotional, it's just my summer things were stored in a few places. For the seasonal changeover, I gathered and laid them all out on the bed. Turns out the answer is yes, you can have too many white camisoles! In 2 hours I culled the ones I knew I would wear, put them in color order in one drawer. The rest were bagged and brought to a local thrift shop the next day. But first, I weighed the bag. TWELVE POUNDS. Of unwanted tank tops and camisoles.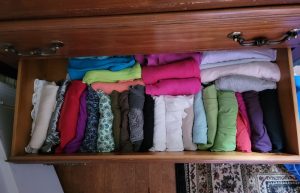 Digital
First were business photos and email files.  16 years @ 150 + consults a year, you do the math. Design jobs long completed, properties long since sold (maybe even sold again!). I kept the most recent third and deleted thousands of others.
Getting progressively more emotional, my online subscriptions were next. I like to know things, all sorts of things. Access to trade and news subscriptions were my wubby.  The news I skimmed, Op-Ed and Lifestyle were my favorite, I felt smart and worldly.  They also accumulated very quickly. News gets old fast, and the unread missives were at odds with the whole smart thing.
So after promising myself I could re-subscribe at any time, I removed the auto-renew on all but one of the newspapers, and removed the specialty newsletters. Also deleted all older than a week, and best? Have been keeping up with it since!
Spice Rack
Our new kitchen awakened my dormant inner Martha Stewart. Not that I always loved to cook and had been constrained. More a fantasy of being a clever and creative cook. The romance of simple ingredients, dishes with a twist. For me, that path meant having a full spice rack at the ready.
So bought a spice rack, bottles, and spices. The bright colors, the textures, just so pretty on the counter! Handblown glass bottles with cork stoppers, all in alphabetical order.  Sooo much better than those mismatched plastic bottles (gasp!) in the cabinet. I felt accomplished and organized. Then a couple of things happened.
If you do cook, you know air, and the passage of time degrade spices mightily. The cork stoppers looked great but weren't airtight. Also, I discovered I liked the reality of shaping and running two businesses more than the dream of creating kitchen magic. But dreams die hard.
At first, I just replaced the spices that had lost their oomph. Because, OF COURSE, I could just slip into kitchen diva mode and whip up something snazzy any time I wanted to. But seems I never really wanted to. So after a few changeovers. I just stopped seeing the spice rack. anymore. Maybe gave it a side-eye as I cleaned around it, but that was it.
So after processing all that spice rack represented, with a sad nod to reality, I reconciled with that dream. Then, dumped out the now-indistinguishable powders and leaves, tossed the cork stoppers, donated the spice rack, and re-purposed the bottles to use as bud vases.
Decorative Towels
The most emotional let-go so far, and it's a two-fer.
Jean was the best mother-in-law. She raised the amazing man I love. And she had such grace.
She loved to buy things for her family. Nothing extravagant, but if she saw something she liked for you, she'd buy it. Her intent was to wait for that next typical gift-giving event, but she'd usually end up giving it to you sooner.
Decorative holiday kitchen towels were one of her things. And no vacation gift shop was unscathed, no holiday insignificant. To this day the towels with Easter bunnies, fall leaves, dogs with Santa hats, hearts, Winnie the Poohs, fireworks, gobblins, and leprechauns are some of my dearest possessions.
I've done this a few times over the years with family, but earlier this year decided to share the love more widely So bought a number of sets of shamrock dish towels as gifts for friends I don't connect with that often.
But of course I didn't get them out in time for this St. Patrick's Day. So they've been sitting in a box in my upper hall, waiting for March 2024. Why? Because who would send shamrock towels at any other time?
Actually, me. Friends who really know me understand I value intent over timing, and I miss you/love you is a fine message to send anytime.  So Part One, the towels will be going out shortly. It is with absolute humility I share Part Two was about letting go of the idea I can do everything I want, on time and (gulp) perfectly. WOWZER.
If you're trying to get going, remember this: Part of what makes change stick lies in doing it in a manageable way that works for you. New evangelists over-shoot, try to do too much, get discouraged, and become insufferable to boot. Don't be that person. But do get started. You will feel soooo much better!